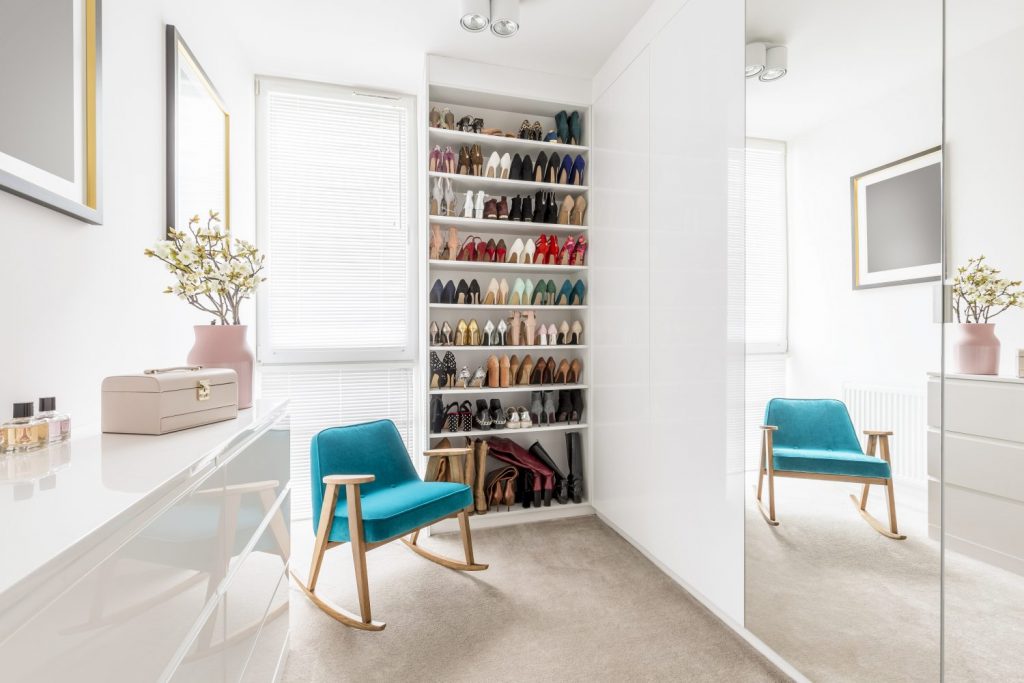 How To Optimize Storage In A Walk In Closet?
Some people think a walk in wardrobe is essential. It certainly beats a wardrobe closet, where you can hardly see what is in it, and things get crammed to the back. The only issue though is that , with all of this space, naturally you will accumulate things, which will make even the biggest walk in wardrobe look small. Find out how to optimize storage today. 
We will look at how to build a walk in closet from scratch and how doing this may maximize storage, because it has been organised by YOU!
Walk In Closet
The walk-in closet has been around from about the 18th century onward. This is when clothes were an asset and an indicator of wealth. The walk in closet makes it easier to see all of your items, and organize your space. The storage, although you may think the walk would take up space, it actually maximizes it and helps to sort and organize items and ideas. 
We have all seen the Kardashian walk in wardrobe. The Kardashian walk in closet seems like a shoppers dream, and it is immaculately organised and everything is stored amazingly. But how? 
We will look at how to build a walk in closet step by step, and more. 
How To Build A Walk In Closet?
Ever wondered how much to build a walk in closet? It isn't as much as you think. The only real materials you need are wood and some screws. The cheapest closet could only set you back around $100. Let's explore how to make a walk in closet. 
If you have a room you do not use adjoining your room this will be the easiest way to build a walk in wardrobe. 

Simply knock the wall through and make a space wide enough for a door

Seal up the other entrance to the room

You can put a door from your room into the closet or leave it to be an open walk in wardrobe.

Then you need shelving and, this can be the hard part because it requires planning and a little forward thinking.
Overall a do it yourself walk in closet is not too hard to achieve. Find out more DIY Furniture projects here! 
How big is a walk in closet?
Any size you want! Some people just require a 3m x 1m space to organize a little better than a wardrobe, and others love a large closet that they can walk in and get ready. The choice is yours and how much space you have.  
Small Walk In Wardrobe Storage Ideas
If you are looking at how to maximize space in a small walk in closet, look no further!
Fold your clothes – this way they will take up less space

Stack items you do not use

Donate! Donate items you do not want

Store. Use

storage trunks

to store clothes and things that can be stored away: summer clothes in the winter, or winter boots in the summer. Or even swimming gear… you name it!
How To Design A Walk In Closet?
You need to think about what you are going to store in the closet, Coats, shoes, shirts, dresses. Some items are longer than others, so you must take this into account. Shelving is brilliant and under used, especially wall shelving that can be stacked at height, reducing space and maximizing capacity. Modern walk in wardrobe ideas are super clean, minimalist and chic.
A walk in closet will transform your bedroom and make it more minimalist, and maximize more space because clothes will be taken out of the equation! You may want to totally revamp your bedroom after this, view our apartment transformations bedroom, for more bedroom transformations!